By Annemarie Homan
I got my first taste of a cappella / close harmony singing when I had just moved from the country to the city to study at the university and I saw that a choir was having auditions for new members. I just tried and was accepted (yay!).
But after just one minute into the first rehearsal my mouth just dropped. What's happening? What is this?? Why have I never heard this kind of singing before? Why didn't anyone tell me this existed?? This is AWESOME!! Polyphony with the most intricate melodies and it sounded so beautiful and those were just the warm-ups!
After that I was hooked. I think for life. The joy of singing a cappella is that you can just do it. You don't need to set up or tune your instruments, you don't need a stage or concert hall. All you need is your own voice and if you're lucky a couple of others to make the sweet harmonies.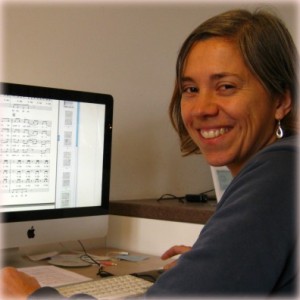 Now that I live in Italy, I miss singing with the a cappella groups I sang with in The Netherlands. Last summer I decided to go the Solevoci Camp near Florence, where The *awesome* Swingle Singers hosted four incredibly inspiring days of workshops, discussions and of course singing. I went there on my own. There were a couple of groups there and I felt more than a little jealous. I also wanted to sing in a group again!
Lucky for me there were more like me who had come there on their own and we decided to try and sing together. It was mostly improvising, but we had so much fun! Enjoying the musical company and working up the courage to also sing in front of the other groups. It was kind of the predecessor of The Single Singers. Let's call it The Single Singers v0.1.
And now we are just 18 days away from The Single Singers 1.0!!
Annemarie Homan
Mezzo-Soprano